"The most honest form of filmmaking is to make a film for yourself."

― Peter Jackson,  Link
SUMMARY
I watched the episode 2 of the Story of Film and learned how to transform negative thoughts into not so bad thoughts. Plus I started the film production on sneakonthelot.
PRACTICE ROOM (TUTORIALS)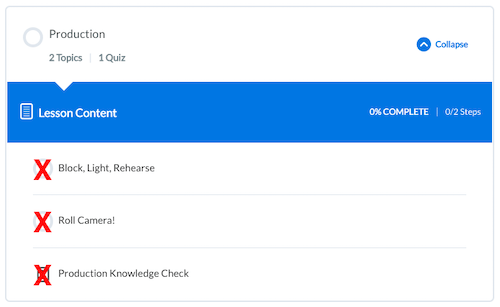 CLASSROOM (THEORY & ANALYSIS)
I watched the Story of Film episode 2.
Steps
OUTSIDE (CREATIVITY, PRODUCTIVITY & THE BRAIN)
Set a timer
Spend 30 minutes in this 'room'
Most of the time my negative thoughts are related to school like in english class when I have to write an essay that is worth alot I freak out think not the best. so then I look at by doing a paragraph a day and its not so bad of a day.
WHAT I LEARNED and PROBLEMS I SOLVED
I learned that Citizen Kane was one of the first films to have expierimented with light in a studio set setting.
WEEKLY ACTIVITY EVALUATION
Give feedback on this week's class Content and Process
DELETE THIS WHOLE SECTION, AFTER YOU ARE DONE